CRACKS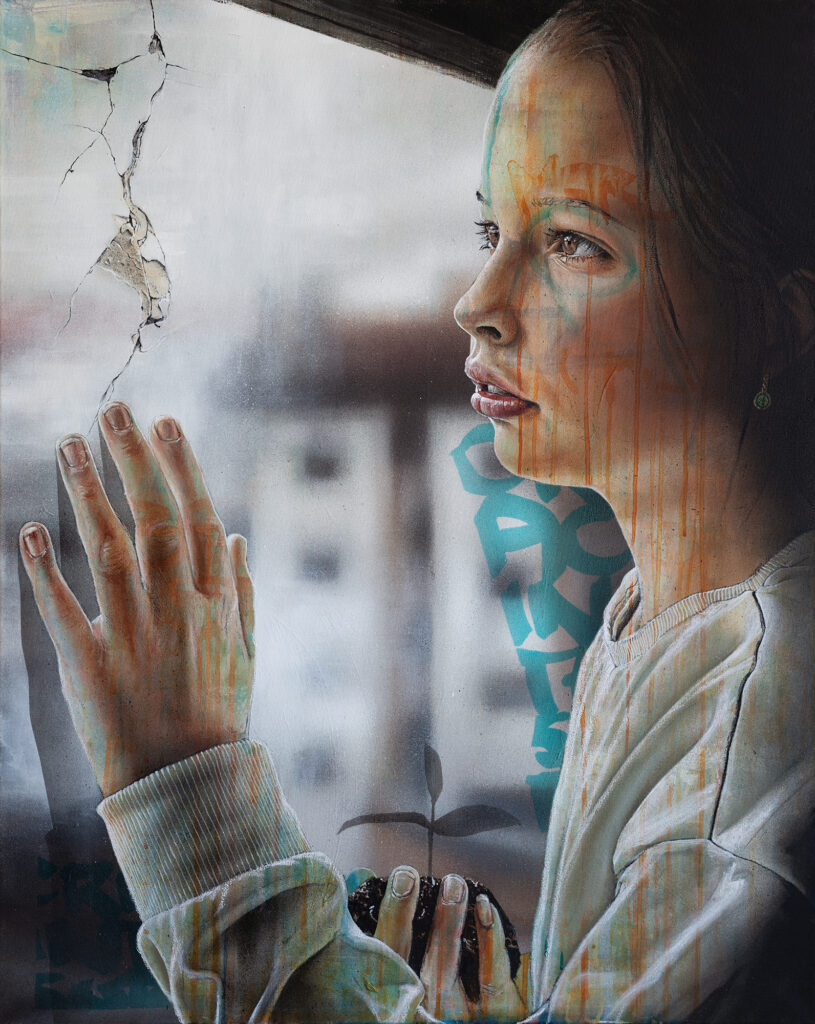 When thousands of pupils and students kicked off the global social movement "Fridays for Future" back in 2018, it was an overwhelming feeling to watch these young people fighting so passionate, constant and serious for something my generation and the ones before have painfully neglected. To me this was like a final wake-up call. Of course I knew about climate change and its consequences. I've experienced it over the years during several projects in the Middle East. People are leaving cities, which become more and more life threatening places due to scarcity of natural resources like water. We all have heard and too many people have even personally suffered from increasing natural disasters. But to be honest I never considered myself as having that much influence on the big picture. I knew about plans of politics and the economy, which I thought should be the actual addressees and thus the activists leading the change. I have never really questioned my very own sphere of activity and thought I'm already doing quite OK with practicing waste separation, going by bicycle or walking whenever possible, not eating meat and only occasionally dairy products or buying organic and sustainable.
I grew up in a small town of people having rather simple ideas of living than big expectations. To me they seemed to be frugal and thankful for what they had. But at the same time this had an after-taste of not being open to changes, almost narrow-minded. I still see them being stuck in old-fashioned manners and with my "special nutrition" I have always been an eccentric to them. I'm not convicting them at all. Humans are creatures of habit. Change is a threat stirring up fear. And fear is what connects the old and the young generation, but it is from different origins.
I completely sympathize with the movement. Moreover, I understand their rage, despair and accusation. The young are afraid of their future, that is determined by the old. The emotional speeches of Greta Thunberg in front of the world leaders made the catastrophe much more real and tangible for me than any discussion in parliaments closed for the public to join did. Standing up and demanding action in this way expresses the courage our leaders sadly miss. The old is afraid of the future and its from the young requested need for change. Trying to shut this movement down by attacking its head on a personal level doesn't testify from a good ability to lead or a sense of responsibility. Due to the ignorance of my generation the young people have been put in charge of our own legacy, which is really poor. We must not be surprised now by them pointing their fingers on all those cracks in our old imagination of reality.
I had a big desire to pick up this conflict between the generations, that we are all affected by. "Cracks" portraits a teenager, who identifies herself as being a part of the "Fridays for Future" movement by wearing an earring with their iconic symbol. She lives in a city full of concrete and skyscrapers, only a view green oases here and there, which she cannot see from her window. In one hand she holds a pile of soil with a little plant in it. She has grown her own oasis and protects it from the mad world outside. Actually being only a shadow the plant symbolizes a sustainable and respectful coexistence of humans and nature, which is desired, but doesn't yet seem to be achievable in this life. The young woman's view is concerned. But anyhow she is also hopeful as she detects a crack in the window, which doesn't look and feel like broken glass. It rather appears to somehow belong to the surface of the room, a symbol for our present, which is constantly destroying itself like the older generations have been doing it. The atmosphere is dreary, but yet there is light in accents on the teenagers face as a bright, solution driven mind and on her hand, that is more than willing to take action. The focus is on the eyes, starring to the left at the crack as looking back to the past and its failures.
---